Each team will produce a report with photos showing your process on each step. You will decide which data is important and which data is less important in your report. You will look up the properties of the polymer that was used and if your results deviated from published properties, you will explain why.
Important issues to note:
The injection molding process is far from perfect. You will have to spend time playing with the settings to get a good, usable sample. The plastic will overflow or underflow the mold… It will be burnt, or otherwise compromised… This will take time, so allow yourself some lee way here… and communicate with the other groups. Take pictures and post them throughout the process.

In choosing temperatures, be careful that the resulting elongation does not increase beyond the capacity of the oven (which is quite limited). If this is a real issue in your experimental design, then solve the problem. This may entail machining your test specimens to smaller diameters, testing at different temperatures or strain rates, or other solutions.

You must schedule the use of both the injection molder and the instron testing device with our technician, George Ortea. He will show you how to operate the machine and will help you set up the oven attachment in the Instron.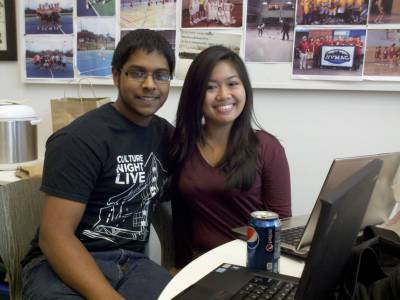 Team A: Andrew Tallaksen, Keith Caskey, Gary Go, Kunsoo Yuk
Team B: Tensae Andargachew, Daniel Bach, Kevin John, Quinee Quintana
Team C: Raymond Fu, Jimmy Espinoza, James Lastihenos, Eugene Wang, James Sarjeant
Put your name where you are busy. If you are busy at the same time as someone else, put your name there anyway (even though it overlaps) - this way when you really need to find a time you know when is absolutely bad, and when is not so bad.
| Team A | Monday | Tuesday | Wednesday | Thursday | Friday |
| --- | --- | --- | --- | --- | --- |
| 9:00 | | KY, AT, KC, GG | | KY, KC | |
| 10:00 | | KY, AT, KC, GG | | KY, KC | |
| 11:00 | KY, AT, KC, GG | AT, KC | KY,AT, KC, GG | KY, AT, KC, GG | SY, AT, KC, GG |
| 12:00 | | GG | KY,AT, KC | AT, KC, GG | GG |
| 1:00 | | GG | | AT, KC, GG | KY,AT, KC, GG |
| 2:00 | | KY, AT, KC, GG | KY, AT, KC, GG | KY, AT, KC, GG | |
| 3:00 | KY, AT, KC, GG | KY, AT, KC, GG | KY, AT, KC, GG | KY, AT, KC, GG | |
| 4:00 | KY, AT, KC, GG | KY, AT, KC, GG | KY, AT, KC, GG | | |
| 5:00 | | KY, AT, KC, GG | KY, AT, KC, GG | GG | |
| 6:00 | GG | | | KY, GG | |
| 7:00 | AT, GG | | | KY, GG | |
| 8:00 | AT | | | KY, GG | |
| 9:00 | | | | | |
| Team B | Monday | Tuesday | Wednesday | Thursday | Friday |
| --- | --- | --- | --- | --- | --- |
| 9:00 | | QQ, KJ, DB | QQ, KJ, DB | | TA |
| 10:00 | | QQ, KJ, DB | QQ, KJ, DB | | TA |
| 11:00 | QQ, KJ, DB | | KJ | QQ, KJ, DB | KJ TA |
| 12:00 | QQ | DB | QQ, KJ, TA | DB | QQ, DB TA |
| 1:00 | QQ | DB | QQ | DB, TA | MATSCI |
| 2:00 | QQ, DB | KJ, DB | MATSCI | QQ, KJ, DB, TA | QQ TA |
| 3:00 | QQ, KJ, TA | KJ, DB | MATSCI | QQ, KJ, DB | QQ, DB TA |
| 4:00 | QQ, KJ, TA | QQ, KJ, DB | KJ | TA | QQ, DB TA |
| 5:00 | QQ | QQ, KJ, DB | KJ | DB, TA | QQ, DB TA |
| 6:00 | QQ, TA | QQ | TA | KJ, DB, TA | QQ, DB TA |
| 7:00 | QQ | QQ | | KJ, DB TA | QQ, DB TA |
| 8:00 | QQ | QQ | | KJ, DB | QQ, DB |
| 9:00 | QQ | QQ | | KJ | QQ, DB |
| Team C | Monday | Tuesday | Wednesday | Thursday | Friday |
| --- | --- | --- | --- | --- | --- |
| 9:00 | RF, JE, JL, EW, JS | RF, JE, JL | RF, JE, EW, JS | | |
| 10:00 | RF, JE, JL, EW | RF, JE, JL | RF, JE, EW, JS | | |
| 11:00 | RF, JE, JL, EW, JS | | RF, JE, JL, EW | RF, JL | RF, JE, JL, EW. JS |
| 12:00 | | | RF, JE, JL | | RF, JE, JL, JS |
| 1:00 | | | RF, JE, JL | | |
| 2:00 | | RF, JE, JL, EW, JS | | RF, JE, JL, EW, JS | RF, JE, JL, EW, JS |
| 3:00 | RF, JE, JL, EW | RF, JE, JL, EW, JS | | RF, JE, JL, EW | |
| 4:00 | RF, JE, JL, EW | RF, JL | | | |
| 5:00 | | RF, JL | | | |
| 6:00 | JE, JL | RF, JE, JL, EW, JS | JE, JS | JS | |
| 7:00 | JE, JL | RF, JE, JL, EW, JS | JE, JS | JS | |
| 8:00 | | RF, JE, JL, EW, JS | | JS | |
| 9:00 | | | | | |