Team great success consists of Henry Wang, Hannah Talisse, Catherine Go and JaeSung Song
The goal of this project was to come up with a material that could be 3D printed into a large scale sculpture multiple times. This means that the material has to be reusable, and easily deformed back to it's original form.
For our project, we attempted to make 'Magic Sand' which is sand coated in a super hydrophobic layer. Our idea was to have a large tank of water in which the sand would be placed into and shaped by some kind of 3D printing devise. The water would then be drained, and the sand would be perfectly dry, and the sculpture would collapse.
Our first attempt was using ScotchGuard, which is a hydrophobic spray used to protect fabrics. The main compound in ScotchGuard is perfluorooctanesulfonamide which is used to repel water and grease.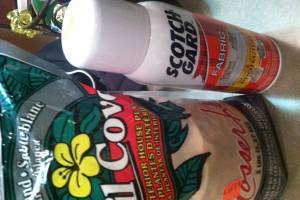 We first baked the sand to remove and moisture, then coated the sand repeatedly, then let it sit overnight. Upon testing the sand, we realised that it wasn't coated well enough, and the spray did not adhere well to the sand.
Upon further research, we found a stronger compound, trimethylsilanol, that is a super hydrophobic compound that will adhere better to sand. We mixed 5% trimethylsilanol with chloroform, then thoroughly coated the sand.
After letting the chloroform evaporate, we tested that sand. Our results were much better than our first attempt. The trimethylsilanol bonded well with the sand. As we poured the sand in the water it formed small chunks, and once removing, the sand that had been coated well enough stayed dry.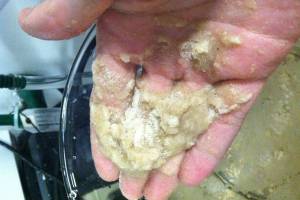 Here, you can see that some of the sand stayed dry, however a majority still did get wet due to poor method of coating.
There are many improvements we must make in order to for a 'Magic Sand' sculpture to be a feasible idea. First, we need to devise a better method for coating the sand, since every grain must be completely coated. We will also need a way to make the sand more adhesive to its self, so we are able to mold it underwater, but also in a way that it doesn't affect the hydrophobic coating.
| | Monday | Tuesday | Wednesday | Thursday | Friday |
| --- | --- | --- | --- | --- | --- |
| 9:00 | | HT | HW, CG | HW, HT | |
| 10:00 | | HT | HW, CG | HW, HT | |
| 11:00 | HSS3 | HW | Ph213 | ESC100M | Ph213 |
| 12:00 | | | HW | HW | HT |
| 1:00 | | | | HW | ESC110M |
| 2:00 | | Ph291 | ESC110M | ESC000.3 | |
| 3:00 | Ph213 | Physics lab | ESC110M | Ph213 | |
| 4:00 | | ESC100M | Ph213 | | |
| 5:00 | | ESC100M | Ph213 | | |
| 6:00 | | | | HT, CG | |
| 7:00 | | | | HT, CG | |
| 8:00 | | | | HT, CG | |
| 9:00 | | | | | |